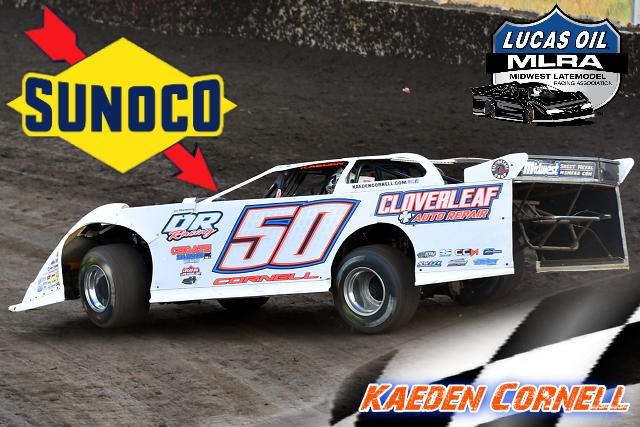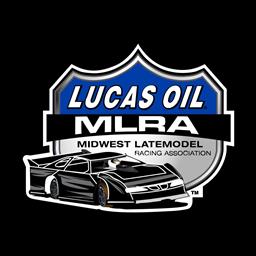 ---
WHEN OPPORTUNITY KNOCKS--CORNELL EYES MLRA'S SUNOCO ROOKIE OF THE YEAR
Wheatland, Missouri (January 26, 2023) – When the Lucas Oil Midwest Late Model Racing Association (MLRA) Series kicks off season number 35 in just over two months-time, another talented group of drivers are expected at the starting line to contend for the series coveted Sunoco Race Fuels Rookie of the Year Championship.
Driven with a lifelong passion to race, 22 year-old Kaeden Cornell is no stranger to racing, in fact the Willard, Missouri driver has been behind the wheel in one form or another since he was just five years old. Following a steady progression through the ranks from Go-Karts to Midwest Mods, and eventually B-Mods, Cornell's breakthrough opportunity into Late Model racing came as a surprise for the then 16 year-old.
Growing up in southern Missouri at tracks like Springfield Raceway and Lucas Oil Speedway he recalls, "When I was 16 we were running pretty good at the time. It was just our family program with our little crate motor. Back then at Lucas they had 60 cars every night and we were normally top five about every night. I never could win, but I think I ran second to about everybody there. About mid-season we had just a terrible night, and Rick Hoover ended up messaging my Facebook Page and asked if I would be interested in driving his late model for him, and that's pretty much how it all started. At first dad and I thought he was joking because of the bad night we just had, but we went out to his place and looked it over and off we went."
After a number of years gaining experience and recording numerous victories competing primarily under the ULMA Late Model Series banner, the Hoover Motorsports team began to branch out more into Open Late Model events in recent years, including last year where they made 10 starts with the MLRA. Three of those nights netted the team top ten finishes, led by a strong 6th place run at the Off Road Speedway in Norfolk, Nebraska.
Cornell is confident that his MLRA experiences from 2022 will be a benefit to his entire team when they hit the road this season. "It's great experience anytime you can run against those guys—that's one thing you can't buy and it's experience. Anytime you can go out and race it's what you've got to do. I tell dad all the time, if I could run the whole Hell Tour deal it would make me so much better. It's just the more you race the better you will be."
A four time Lucas Oil Speedway "Most Popular Driver of the Year" award recipient, Cornell is excited knowing he will have eight opportunities with the MLRA this season to compete at the Lucas Oil Speedway, but he is quick to acknowledge that there is no real home field advantage. "The hard deal about that place is normally it ain't the same but once. Everybody says it's a home track, but it ain't much of a home track because they keep you on your toes pretty good. It could be rough or smooth and fast, it's just kind of all over the place, but I like it that way."
Outside of being able to notch his name in the records books as the newest Sunoco Race Fuel Rookie of the Year at seasons end, many of Cornell's goals for the season focus around running good in the Show-Me 100 and the Diamond Nationals. "A big goal of mine is the Show-Me, to be able to lock in and not have to use a provisional. I feel like that's the best measuring stick for where we are at with our program. That race brings the best of the best, so if we can run good there, man that would make me really happy. Pretty much all of my sponsors and fans and family will be there—that is our World 100."
Cornell is a two-time winner with the former Southern Outlaw Late Model Series, with those wins coming in 2017 and 2018 at the Batesville Motor Speedway. However, tracing back to his Lucas Oil Speedway roots, he notes one of his biggest accomplishments was qualifying for the Diamond Nationals. "We made the Diamond back in 2019, and I think I ran right behind Rick Eckert pretty much the whole race. I'm racing with people that I literally looked up to my whole life. I mean I've got these peoples die cast and here I am now racing against them."
Now as the team embarks on their sixth season together in 2023, Cornell is confident that the resources are now there to be a regular contender with the series. "I can't thank Rick enough, he just keeps believing in me and getting me all of the equipment we need to go fast. He has given me opportunities that I can promise you I would've never had if we were just on our own budget. We are probably one of the smallest and lowest funded teams in the pits, but I think this year we are going to have just as good of shot as anybody. Will Vaught told me one time, we all strap on our helmets just the same way so, I've kinda took that and rode with it."
The team will enter the season with a 2022 Black Diamond Chassis that they debuted last July, along with a new Scott Bailey Racing Engine. "I feel like this year is going to be the first time for us to really be on an even playing field with these guys, so it's really exciting."
Hoover Motorsports Partners: Cloverleaf Auto Repair, Asphalt Sealcoating & Striping LLC., Scott Bailey Racing Engines, Black Diamond Chassis, Oil & Octane, Midwest Sheet Metal, Choate Farms, Swift Springs, Truform Racing Products, Dynamic Drivelines, & Simpson Racing Products.
Car Owner: Rick Hoover, Hoover Motorsports
Crew: Aaron Cornell, Tracy Cornell, Dave, Ruby, & Rick Hoover
---
Article Credit: Billy Rock
Back to News